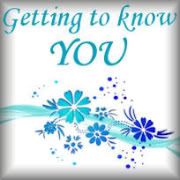 "As I was surfing the blog world today I came across a wonderful
Blog I visited last week...Dancing Barefoot on Weathered Ground. She had a GREAT IDEA
to meet other bloggers who have the same desires and hungers as
Mothers who follow Christ.

Look on my blog and find the "Getting to Know You Button" and check it out!